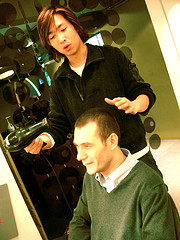 In recent years, there have been a number of technological advancements and other innovations in the hair replacement industry that millions of people have benefited from.  The most common replacement procedure is hair transplantation or grafting where small quantities of follicles are surgically moved from what is referred to as the "donor" area to the balding area in order to restore the hairline and fill in the scalp.  However, there are a few other hair replacement procedures that are also performed.
Flap surgery
This procedure uses a flap or flaps or hair donor tissue that is transplanted to the balding areas of the person's scalp.  The flap is transplanted to the balding area in order to restore the person's appearance.  A bald portion of the scalp is surgically removed and then replaced with a hair-bearing section of tissue in order to fill in the scalp and make it appear more natural.  Microsurgical techniques are then employed to attach the flap to a vascular supply and the hair replacement procedure is completed.
Scalp expansion
This hair replacement procedure involves the use of "tissue expanders" which are surgically placed beneath the scalp and then inflated slowly.  This stretches the skin of the scalp area in order to increase the amount of hair-bearing tissue that is available for the surgical procedure.  The number of these tissue expanders and the time period that they are left in place depends on the extent, location, and pattern of the hair loss and thinning that has taken place.
When the surgeon is confident that the scalp has been sufficiently expanded, they will then perform what is called scalp reduction.  During this stage, they use the excess scalp tissue in order to cover the excised scalp tissue sufficiently.  Good hair density and good scalp elasticity are critical in order for this hair replacement procedure to be effective.  This procedure typically rules out burn patients.
Scalp reduction
This is a hair replacement procedure that involves the removal of a balding or thinning scalp section and replacing it by surgically connecting the remaining scalp areas over the area where the scalp tissue was removed.  If the surgeon pulls the scalp areas together too tightly, it can result in an unnatural result.  If the person who is undergoing this procedure do not have enough donor tissue, it may be necessary to undergo a flap transplantation or scalp expansion procedure in addition to this.
Image credit