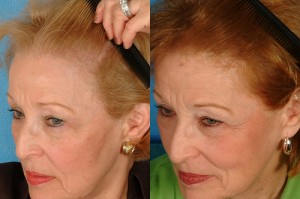 To a woman, appearance is everything, whether it is the clothing and jewelry that they wear or the way that they have their hair styled.  The loss or thinning of this precious commodity can be devastating psychologically to say the least and drives many women to finding hair replacement methods or products to correct it.  For many women like men, there are options available where replacement of lost or thinning hair is an issue, but there are certain hair replacement products that have side effects that need to be taken into consideration before using them.
Photo via Dr_Alan_Bauman

One of these hair replacement products is a topical preparation known as Rogaine (Minoxidil) which has been proven to be just as effective for women as it has been with men.  Surprisingly enough, Rogaine was initially used for the treatment of high blood pressure.  While the effectiveness of this "drug" was being researched and studied, it was discovered that new hair growth resulted among those individuals treating their high blood pressure issues with it.
In the 1980's Rogaine (Minoxidil) was marketed as a treatment for hereditary baldness in males.  By the 1990's, it was recommended for females as well.  What you need to know is that Rogaine was not intended for hair replacement with individuals that were experiencing hair loss or thinning that resulted from diseases or medical conditions.  It was designed for the replacement of hair that was lost or thinning because of Alopecia or male pattern baldness, chemotherapy and/or radiation for treating cancer, or damage caused by certain hair styling techniques.
The chemical formula of Rogaine is different for men compared to women due to the fact that oftentimes the causes of baldness and hair loss or thinning are different between the two genders.  If you use Rogaine properly, you will experience very few side effects.  These include dry and/or itchy scalp which can be relieved by rinsing the hair with cool water and using a gentle shampoo and conditioner when washing it.
Additionally, it is recommended that pregnant women or those who are breastfeeding should not use Rogaine for hair replacement purposes.  Since the topical solution is applied directly to the scalp, it has a direct avenue for entering the blood stream and creating problems with these types of women.  It can also cause problems with the circulatory system and the heart as a result of this absorption.