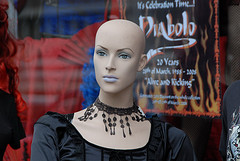 Hair loss can be a very emotionally draining and stressful experience, especially for women.  It can take a serious toll on her, her family and her social life.  However, many women today have now turned to hair replacement procedures as a viable option and becoming increasingly more popular among female circles.  Replacement can oftentimes be accomplished with non-surgically means, but the most effective types of hair replacement methods are still surgical.
Before you take any measures or steps though, you the treatable causes of hair loss that may exist need to be eliminated first.  As an example, Alopecia among women can be caused by numerous factors including:
existing or prior illnesses
nutrient deficiencies
recent childbirth
stress
If you have the option to pursue hair replacement using non-surgical methods, you should take that step first.  The elimination process (see above) may also involve being examined by an endocrinologist in order to determine if there are any hormonal imbalances that may exist.  In many cases, they can assess your situation and then determine if a simpler solution such as changing birth control pills may be an option to pursue.  Prescribing anti-androgens might also solve hair loss problems so that a surgical replacement procedure is not necessary for the time being.
Once you have eliminated the above, the next recommended step could be trying Rogaine to start the hair replacement therapy without having to have surgery performed.  This is one of the most acceptable and common methods to consider.  Additionally, Rogaine is the only product that has been approved by the FDA and has a proven track record of success.  You want to make sure that you purchase is the Rogaine that is designated for you and not men.
Transplantation surgery is an extremely effective procedure for the replacement of lost hair and has become one of the most popular options with many women today.  This surgical hair replacement depends highly on the abilities, experience, and skills of the surgeon where maximizing the effective use of donor follicles and damage to the scalp is concerned.  Typically, transplantation surgery works better to correct baldness rather than the thinning process.
Consulting with a licensed hair replacement physician is you best course of action in order to see if this is the only option.  Honest medical professionals will try to steer you away from a surgical procedure if this isn't necessary.  It might be more effective if it is tried before going through transplantation surgery.
Image credit