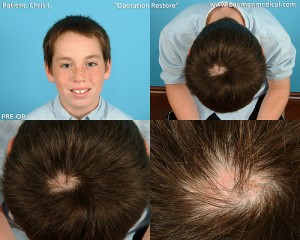 One of the procedures or treatments for the replacement of lost or thinning hair is surgical hair replacement or hair transplantation.  The procedure involves surgically removing a section of the scalp known as the "donor" area and then stitching it into the affected areas.  For the most part, hair replacement surgery is suitable for all ages and both genders.  It is different from other procedures or treatments in that others target specific age groups and genders.
For instance, the hair replacement medication Propecia is never prescribed for women whereas there is a specific type of Rogaine for women as well as men.  Other drugs can be extremely harmful to pregnant women and their unborn children.  Additionally, there are treatments that should not be administered to children because they may be too strong and have an adverse affect on a child's young body.  Despite all of the above, hair replacement surgery is usually suitable for men, women, and children of all ages.
Women and children typically lose hair towards the front of the scalp and then the loss and thinning usually progresses towards the back of the crown.  Hair is surgically removed from donor areas of healthy follicles and then transplanted in the frontal area of the scalp in order to fill in the balding areas as well as defining the hairline.  The loss or thinning of the hair in the frontal portion of the scalp typically results from tension that is exerted on the follicles and strands.
That tension typically results from pulling the hair back too tightly such as with braiding, buns, extensions, pigtails, or ponytails.  Eventually, the hairline is lost and this happens mostly in younger adults.  Hair replacement procedures enable the reestablishment of the hairline while at the same time filling out the balding or thinning areas in order to restore a more natural look in the process.  Additionally, there is usually a small portion of the scalp that suffers while the rest of the person's scalp does not.
Whenever possible, you should catch hair loss in its early stages rather than allowing it to advance to the point where hair replacement surgery may or may not work.  You will need more follicles in order to fill in the larger balding areas because the density of the hair has to be uniform.  This becomes more difficult as the amount of donor follicles decreases when the condition progresses.
Photo via Dr_Alan_Bauman