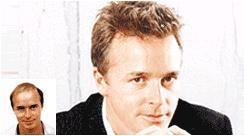 After you have undergone hair replacement transplant surgery, there are recovery stages that follow on the way to successful results.  There will probably side effects involved with most replacement and transplant surgeries, but within a few months, your hair will look normal and there should be no evidence of having had the procedure done.  The following is what you can expect after you have had a hair replacement transplant procedure performed.
Early side effects
Initially, you should expect to feel some numbness, pain, redness, soreness, swelling, and tightness on the areas where the hair replacement transplantation was conducted.  These should start to subside within a few days of the surgery and your surgeon will probably prescribe some medication that will make this a little easier on you.
After the end of the first week
In most cases, you should no longer be experiencing the side effects mentioned above after the first week has passed.  Redness and swelling are typically gone.  However, in rare instances, there may still be some noticeable numbness.  At this time, your surgeon will remove the first batch of staples or sutures, depending on what was used.
After the second week
By the time two weeks have passed, the surgeon should remove the remainder of the staples or sutures.  By now, you should no longer be experiencing any numbness either.  Technically, the hair replacement grafts should be completely situated and taking hold.
Appearance of the hair
Somewhere around the first or second week, you should start noticing some new hair growth.  After the first 30 days, any reminders of the transplant should no longer exist and your hair and scalp should appear natural looking.  Once you have reached the 4 to 5 month mark, everything should appear normal and you should be noticing new hair growth in all the areas that your hair replacement surgery took place.
Final results stage
The overall process of hair replacement surgery takes up to a year to complete.  By the 12th month, all the results that are going to materialize will have taken place.  At this point in time, you will have a consultation with your surgeon again to see the final results and to determine if further treatment is required.  Remember above all else that you need to follow your physician's orders to the letter and take whatever medication that they ordered exactly as directed.  In so doing, you should be completely satisfied with the results and be able to continue leading a normal life.
Photo via advanced_hair_studio